Starlight shimmers everywhere, there was a certain something in the air last night. As with every Oscar night. It could be the dehydrated and starving starlets who have been soaked in honey dew and seaweeds for weeks, not eating. Or eating only cucumber, salmon, cellery sticks or grapefruit. The tricks are many, and it most certainly does take a village before most of these stars hit that
red
burgundy? carpet. There are of course, also the ones that don't seem to care too much about their appearance. Here in 'Petras Palace we mostly celebrate all things glamourous but we'll also include a few misses along the way. It's only human to take a kind of sick pleasure from other peoples misfortune. Especially if they are rich and famous. I do hope you are ready for this one.
We will start with the always gorgeous Anne Hathaway who was hosting along with James Franco. Anne Hathaway wore eight different outfits last night arriving with amazing designer Mr.
Tangerine
Valentino.
The dress was of course a Valentino creation, and Mr. Valentino himself looked quite stylish.
After hitting the carpet, Anne changed into this number, for the opening of the show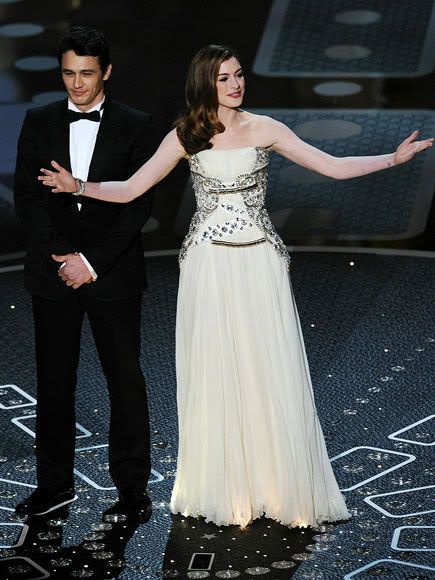 The dress is a white grecian style crystal embroidered gown by Givenchy Haute Couture with Tiffany & Co jewels.
After that, Anne broke into song in a black satin shawl collared tuxedo by Lavin with Brian Atwood pumps.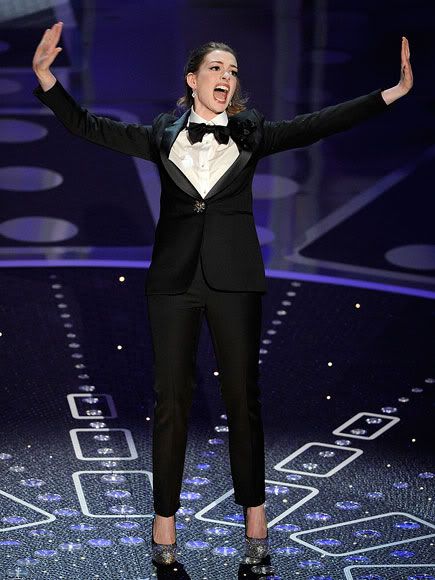 Then changed into this gorgeous Vivienne Westwood Couture dress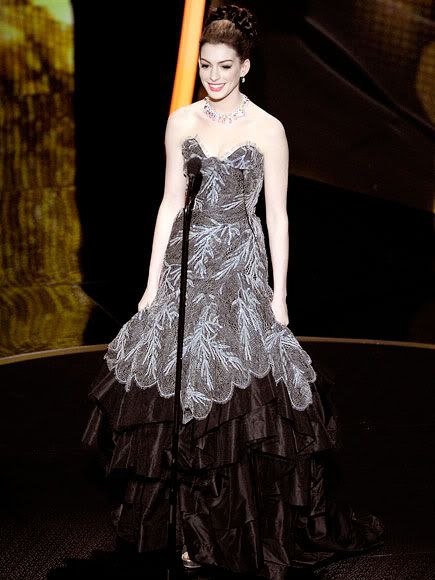 Anne Hathaway upped the fun factor shimmying in this one shoulder beaded fringe Oscar de la Renta gown.
After which she switched it up with this beaded crimson Atelier Versace gown. Notice the hair. Amazeballs!
You've got to give Anne Hathaway credit, she found the one Armani Privé dress that wasn't dull and she looks stunning in it.
For the finale Anne did step a little bit off the mark. This is certainly a stunning beaded lace gown by Tom Ford but I'm not sure anyone can do it justice. Well, a George Michael video and the name
Nadja Aurmann
come to mind.
James Franco is spot on though.
We now leave the comfort of the stunning hosts, and venture in no particular order onto the red carpet. Unlike we've previously done over on
SayHey
we have decided not to group the photos in categories of ugly, hideous and amazeballs. This may make it more interesting as you have no idea when you stumble upon Celine Dingdong or Helena Bonham Carter. A word of warning though, if you expect a photo of George Clooney and Elisabetta (you may remember the pouting and posing bint he usually parades around) you will be disappointed. They were nowhere to be seen.
We start very untraditionally with a
boy
young man by the name of Andrew Garfield. He looks quite stylish in this Louis Vuitton suit.
I'm not keen on the shoes though.
We may remember Virginia Madsen from the year she was nominated for an Oscar for the
dreadful
Oscar nominated movie Sideways. This year she's sporting a ruffly, feathery looking Romona Keveza dress. I do not wish to be mean, however the outfit does make her look a little wide? I like the earrings and hair though.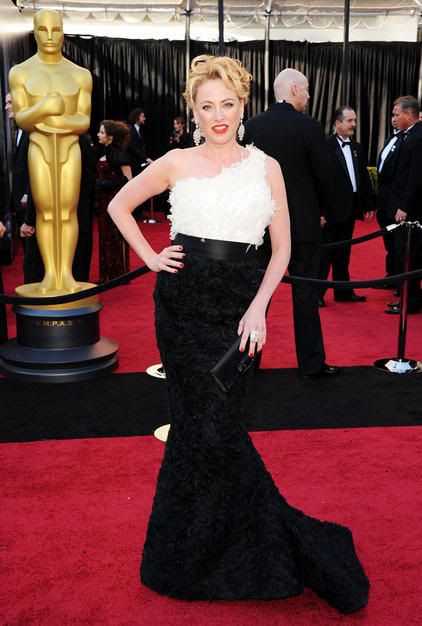 Being nice is not something I'm that familiar with, but there's no reason to be unnecessarily cruel so I've decided to keep the names of the people in the next photo undisclosed. The man (the one on the right) looks quite dashing in his suit and I'd actually love to know who made it. The woman however, looks mean spirited and not very glamourous. It's not a PETA thing, because I'm a firm believer in killing animals for fashion, but rather that it just that the fur looks out of place. Excuse me while I go barricade the door in case PETA and the GLAAD people come knocking with their torches.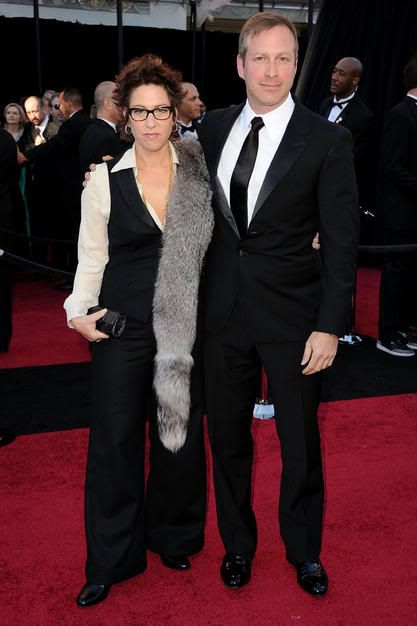 From one dashing gentleman to another, we have Justin Timberlake (we love him!) in Tom Ford
*snickers* we wish!
. I'd half expected Justin to be wearing his own line
William Rast

but I suppose they don't make evening wear. He certainly is dapper.
Next up we have Danish Academy Award winner Susanne Bier (foreign language Film) in this petrolium blue gown. Sometimes less is more, and here it really is. It's all about the gorgeous diamonds rather than the somewhat poorly constructed dress. Someone should have told her about foundation underwear. She looks great though.
Next up, we have Steven Spielberg and his 14 year old daughter. Mr. Spielberg probably dusted his suit from last year while his daughter probably got one of the last remaining gowns at Lavin. Bless. It looks like they didn't even steam it properly. I've had prettier napkins after a five course dinner but she did have a great hair stylist.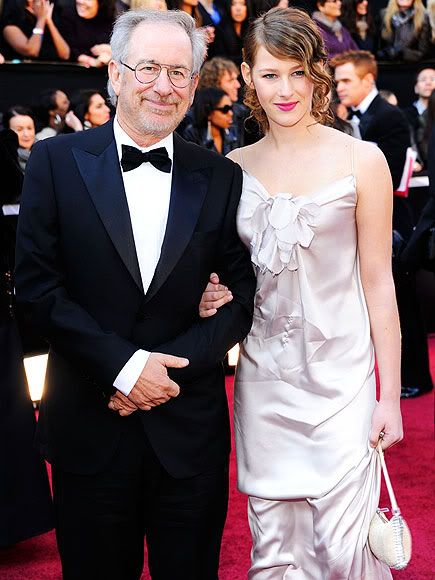 Next up we have
Cruella Deville
Sharon Stone. The feather detail on the front makes the Christian Dior dress even worse. I'm tempted to say that was it not for the sort of glazed over stare (Xanax anyone?) and her body signalling it hasn't gotten anything besides sedatives and botox for weeks, she'd have been upstaged by the woman in the inappropriate black shoes and the green feathers on the shoulder in the background. I doubt they'll be inviting her back for Catwoman II.
Up next is Mark Ruffalo and his wife (I assume) Sunrise Coigney. First of all, Mark please go and get a haircut. I used to fancy you for gods sake! Second of all, who is this insane woman you brought along. Sunrise? Seriously? Sorry, I don't want to speak ill of your mother. The is probably nothing wrong with the dress. Maybe it's a little split personality but I can't get past the hair. Do you know who made this dress? Is it an Armani Privé?
This next one is for our dear friend
Miss Roses
. Obviously this is Robert Downey Jr. in a blue suit. I had another photo in which it looked black though. Personally I much prefer black suits to any other colour. White's just tacky and blue is out of place at the Oscars. That said they do look really good together. I assume the woman is his wife. During the red carpet transmissions I was lucky enough to watch a little interview with the two of them in which she was very proud that her ear rings and matching ring was designed by Angelina Jolie. I don't like the jewellery but the dress is lovely.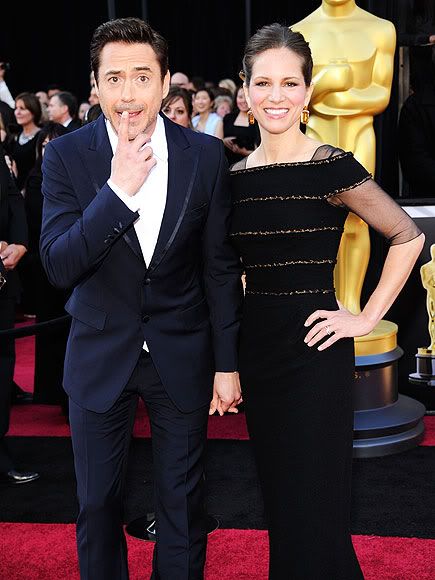 Next up we have a two for one bargain. Jeremy Renner and Scarlett Johansson. Jeremy Renner looks quite dashing in Yves Saint Laurent. Scarlett Johansson is wearing this lace creation by Dolce Gabbana. I know we said that it was ugly over at SayHey earlier today and I still don't like it. I think it's the lace that you can see through that puts me off it. She has lovely hair though.
Oh, look! It's Reese Witherspoon up next in a very simple Armani Privé. It's actually a pretty dress. Simple and effective, but nothing new. We've seen dresses like this all the time. I'm just really not feeling the hair.
You may remember Nancy O'Dell from previous Oscars? Last year she was being a little slutty? This year, she's not. I really like this dress (god, I hope it's not a Randolph Duke) but she overdid it with the jewellery.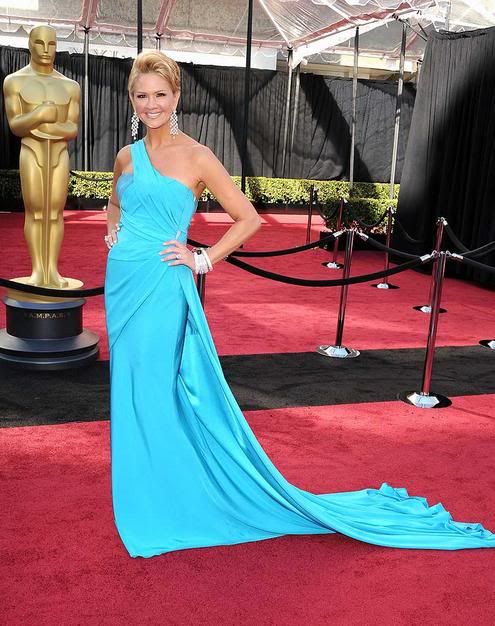 Speaking of slutty, Matthew McConaghey's girlfirend Camilla Alves is wearing a black Kaufman Franco dress. It was a little too exposed for the Oscars in the front. Otherwise, a lovely dress and she does look great with Matthew in a Dolce & Gabbana suit. I just wish someone would make him cut his hair.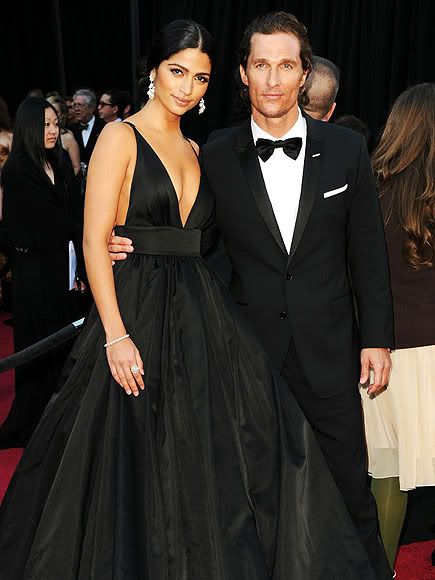 Let's take a moment and discuss the whole Marky Mark thing. We remember Marky Mark (& The Funky Bunch) and nothing get's between me and my Calvins. Let's observe
Oh yes. In the photo above Mark Wahlberg (as he prefers to be know as now) wears Giorgio Armani (and you catch a rare glimpse of James Franco's grandmother). I for one, think he's had his teeth done. I'm not sure Calvin Klein will forgive him for bailing on them. Below you see
Marky Mark
Mark Wahlberg with his wife who looks a bit like a poor mans version of Molly Sims in a colourful but very sad looking dress by Naeem Kahn. A designer you'll see more of later.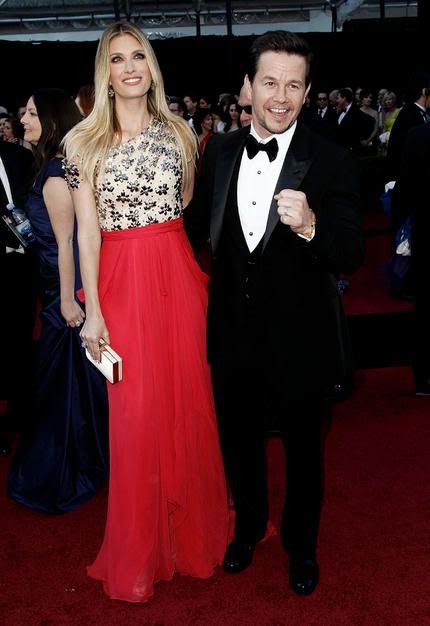 Marissa Tomei is up next in this vintage navy blue 1950s Charles James gown from Lily et Cie. She was criticised for wearing it. I saw somewhere that they thought it was ill fitted. Personally, I find it smashing.
I just feel bad for the woman behind her in the black dress. Someone should have told her to hide the hams under a shawl or something. Bless.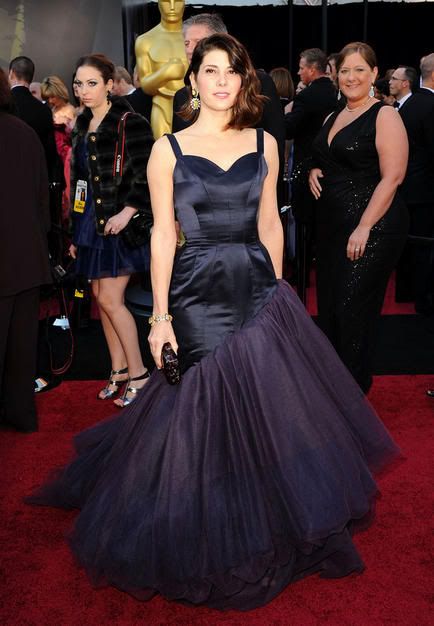 Here's someone I don't know who is. Malika Sherawat in this very sparkly dress. Something that would be much better suited for a lounge singer performing somewhere in Vegas.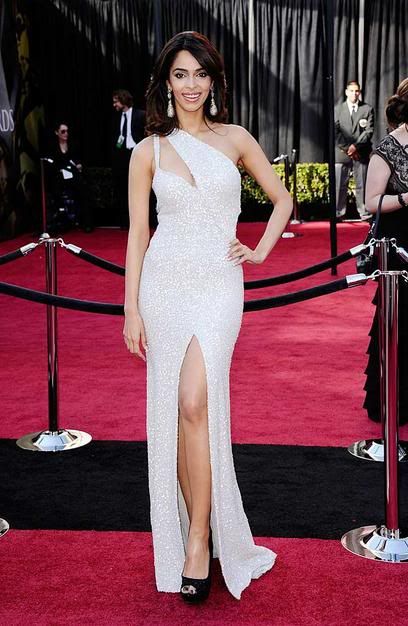 Julia Ormond played Audrey Hepburn's character in the 1954 movie Sabrina, but she most certainly isn't looking very Hepburn in this hideous creation. Whoever made this hideous lacey nightmare should be shot, and poor Julia's stylist forced to wearing hanging from the skyway by the Kodak Theater. We've seen these type dresses before though and it probably won't be the last.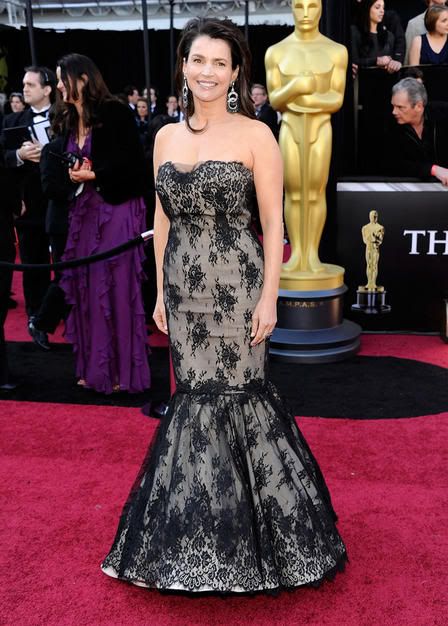 Let's check out the Oscar nominee Jessie Eisenberg. He's wearing a Band of Outsiders suit it looks quite good. I only wish he'd cut his hair though. He's not on his way to Denny's for the early bird special.
Jennifer Redfern is up next. We have no idea who she is. We do however know that she thought this was the Santa Monica Pier. At least that's what we think, seeing as she's got a sarong tied around her chest. The man next to her in that lovely black suit (and shoes) just stopped trying to tell make her understand. Bless.
Jeff Bridges brought his entire family along to see him lose the Oscar to Colin Firth. The Oscar loser, wore a Dolce & Gabbana suit and I suspect that the other man in his possé wears the same. They all look lovely though
if a little too smiley, very unnerving
, but Jeff needs to cut his hair and get a proper shave.
From one Oscar nominee to another Javier Bardem and
the hussy
Penelope Cruz
clinging to his arm like a leech
by his side. Javier is looking very dapper in his Gucci suit. His trousers do look a bit sloppy and should probably have been tailored better.
Penelope Cruz is wearing a flaming
milk for sale, come get it straight from the source
lowcut L'wren Scott creation. I am really not feeling this tits on parade dress and Penelope is doing nothing to take the attention away from the girls.
Our lovely host James Franco managed to look decidedly kool through the show. He was kool and collected, and possibly a bit detached. One of his outfits did stand out though. I think he rocked the Marilyn look. Mostly because of his arms.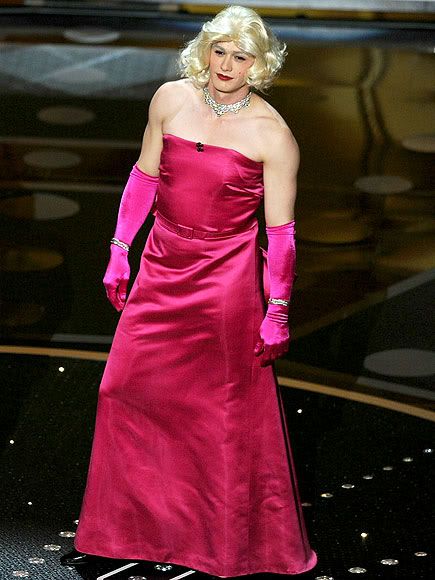 Jackie Weaver followed the sparkly trend on the red carpet in this dress by Australian designer Collette Dinnigan. She knows her limits, foundation garnments and this makes her look radiant. We heart this look.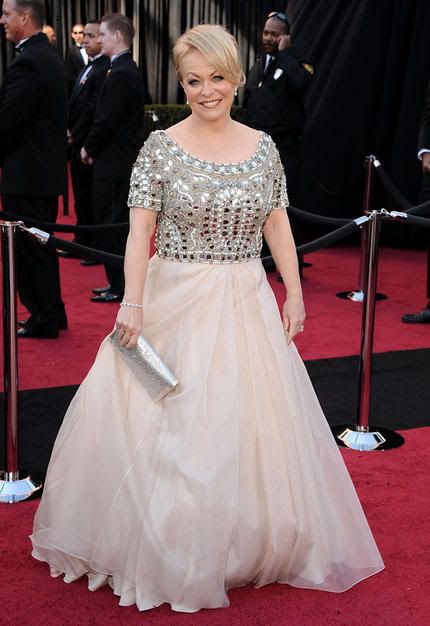 From one Aussie to another. The debonair Hugh Jackman in Ferragamo (we love that someone wore Ferragamo! YAY!) and his
mother
wife. I don't get the white feathers, but other than that they look quite good together
as mother and son
.
From one part of the Commonwealth to the other, we have patriotic Helena Bonham Carter. The crazy Tim Burton
bint
muse who was nominated for best supporting actress. She always looks like something out of this world. Kind of like a Tilda Swinton on crack. This time in a Colleen Atwood creation. Colleen Atwood also designed the costumes for Alice in Wonderland 3D which she happened to take home this Oscar for. Colleen, not Helena. Personally I find this particular creation hideous. She could use it in the next Harry Potter movie or join forces with Sharon Stone and battle Glen Close for the part of Cruella Deville.
Once you are over the shock of the photo above, we have the slightly disturbing dance pose photo of Armie Hammer (seriously?) and his date. He is wearing a proper Armani suit (and the shoes are spot on). About his date, I must say that Charisma Carpenter and Eva Longoria both called, and they want their hair circa 2008 back. I like the design of the dress she's wearing, but I don't like the material and colour. As she looks now, she could call on Sharon Stone and Helena Bonham Carter to join their coven.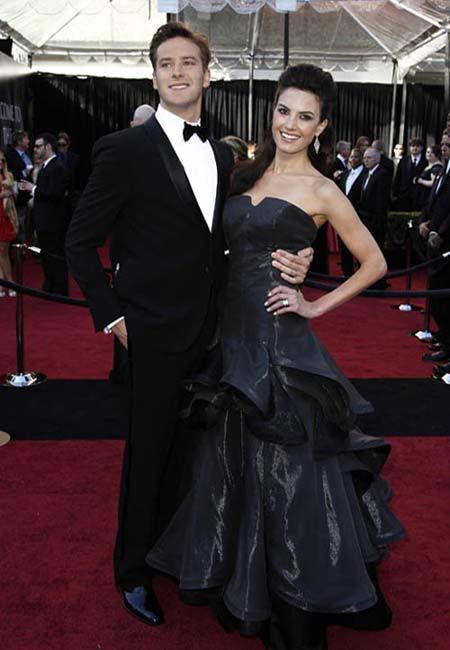 Colin Firth was mentioned earlier as the winner of the best actor award. He should have won that last year for his movie with Tom Ford, A Single Man. Obviously that went to Jeff Bridges, so it was only fitting he won this year. Colins work with Tom Ford meant that he naturally wore a Tom Ford suit this year. He looked quite dapper if you ask me. His wife Livia Guiggioli wore a
vintage
recycled dress by Gary Harvey. Put in that, what you will. Did she wear it before? Is is made from rubbish? Whatever, I am totally not getting it.
Her boobs are droopy, the satin patches look awful and the tuille hell in the back is just insane. It does give a little shape to her though as she otherwise looks like a swizzle stick. Also, the hair is a mess. She may have a very kool name but to use a very popular expression these days, she's a hot mess. She's not at all hot though.
From a hot mess to a hot Erin Andrews. She's someone I have no clue who is, but she looks great in this sparkly Kaufman Franco dress. I'm sorry but she looks sensational!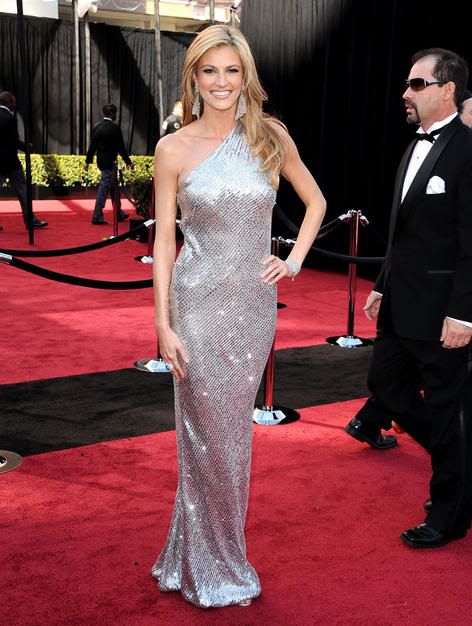 Donald and Melania Trump were also at the show. I have no idea why, but I suppose he'll buy anything for Melania who is just gorgeous. I'm not going to mention Mr.
flocks of seagulls
Trump, but just say that Melania looks stunning in Dolce & Gabbana. Donald certainly isn't using Melanias hair stylist, because her do is looking amazeballs.
Now that we are so generous with the compliments, we may as well continue by saying that Dale Dickey here looks radiant in this sparkly blue number. We don't know for sure who created this gown, but Amy Adams wore something in a similar blue sparkle from L'wren Scott. Notice how happy the man to the left looks. He makes us smile.
When you hear a name like Busy Phillipps, you think it's kind of a joke or a pornstar name. It's not. We are not sure who made this gown but it does look busy. So much going on, and we are not amused. The only redeeming factor is the colour. Bless.
From one fashion fail to another. We've got Russell
Bland
Brand in a blue and black suit. He brought his mother along, who he had put in a black lace doily.
Another Gucci man, Christian Bale whose suit looks great but seriously needs a shave. The caveman look just doesn't do at the Oscars. His date looks nice in that black dress. It could be any number of designers, Dolce & Gabbana, Armani Privé, Calvin Klein or a someone totally different. Do you know?
From Batman to Bollywood, we've got Aishwarta Rai in a sparkly brown (we never thought we were going to say that) Armani Privé dress. Another thing we never thought we'd say is that we like this. It's beautiful. So is her hair.
From one beautiful woman to another. Academy Award winner Sandra Bullock is looking gorgeous as
almost
always in this fabulous red Vera Wang dress. Everything worked for her and she stole the show. Not only with fashion, but also with humour as she introduced the nominees for best actor.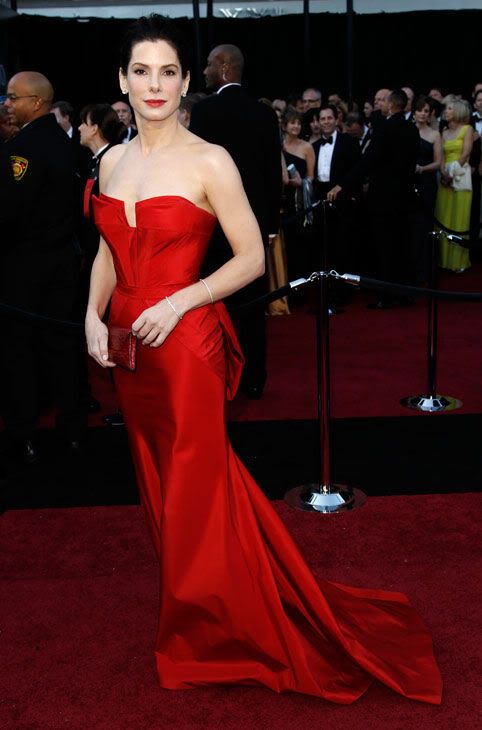 From last years Oscar winner to this years best actress Natalie Portman who wore this Rodarte dress and the ultimate accessory, an empeccably dressed and gorgeous man on her arm. The baby bump doesn't ruin the dress. Her shoes, like many of the other women on the red carpet, were supplied by Jimmy Choo. This hairstyle is very popular. I can mention that Rodarte also designed all the costumes for her movie Black Swan (a weird and very disturbing ballerina movie, but in the good way!)
A previous Oscar winner, and nominee at the show Nicole Kidman showed up with her husband. Nicole Kidman is usually known for being spot on with her Oscar outfits. Yet this years gown left a lot to be desired. This white Dior Haute Couture gown mostly resembled a table cloth. Her shoes were by Pierre Hardy but the only remotely redeeming elements were the hair and the Fred Leighton choker around her neck.
Another nominee was Mila Kunis who co-starred with Natalie Portman. She wore a fabulous albeit a little too revealing Elie Saab Haute Couture dress.
Michelle Williams was also nominated, and she showed up in a very demure, beaded Chanel Haute Couture dress. I am not a fan of the top half, as it is a little too T-shirty. That would have worked on someone a lot older. Someone with bingowings and saggy boobs.
Melissa Leo won the Oscar. She wore a white and gold floral dress by Marc Bouwer. I really like this. Partly because I really do find it very interesting and partly because Randolph Duke was standing on the fashion skyway above the Kodak Theater hating on the shoulders. A man who doesn't seem to be able to dress anyone for the Oscars except his co-hosts.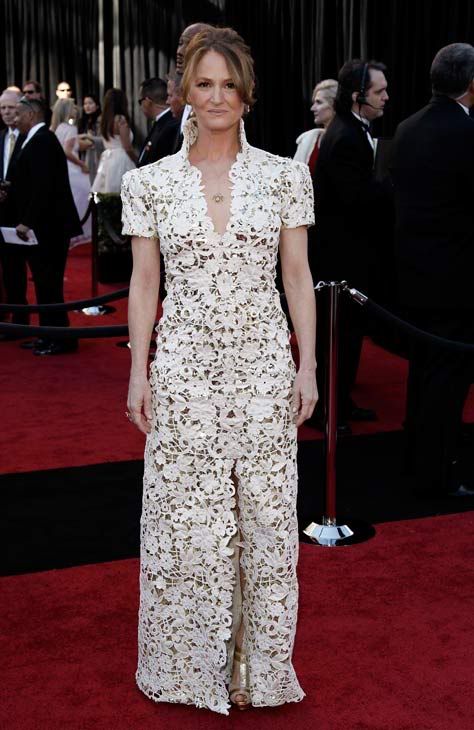 Mandy Moore most certainly grew up, didn't she. She's wearing this sparkly Monique Lhuiller gown. The waist is a
little
lot ill fitted but everything else is floaty and pretty. From afar you would think her upper body was just strayed with sparkles. That's the way to go but a shame about the clunky waistline.
Aaaand we are back in red with Jennifer Lawrence and the uninspired Calvin Klein. It's one of those dresses that aren't really anything. It's not a great dress, and it isn't bad. It just is. It's a dress. A dull dress.
You can call this tangerine until the sun comes up. It's an orange dress. We here at SayHey hate orange. We don't care that it was designed by Atelier Versace or that we used to really like curvy Jennifer Hudson. Alright, so we may or may not have called her a
bit fat cow
bit heavy. Seeing the result of putting her through the Hollywood machine though is not pretty. She's thin now, just like all the other skinny bitches. Now she's just a black girl in an orange frock with her shrunken boobs squashed in an unflattering halter top. Bless 'er.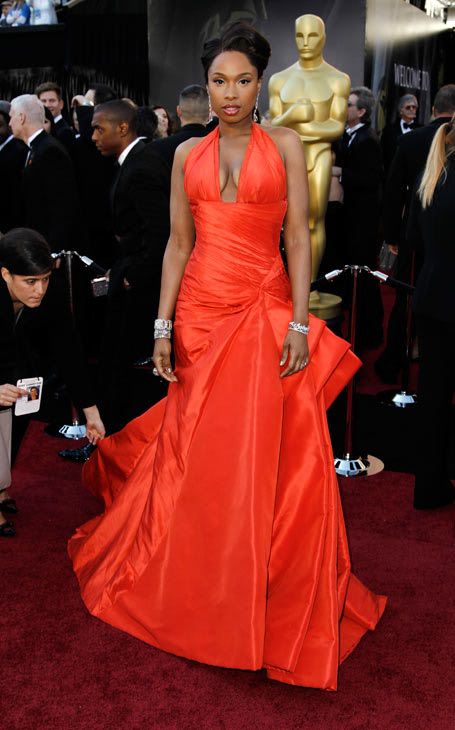 We imagine this would be what Michael Phelps looked like if he wore a feathery and sparkly Gucci Premiere gown. Unfortunately for Hillary Swank, she does look that way. The dress is absolutely stunning. We LOVE this Gucci creation, but Hillary Swank just looks awkward in it.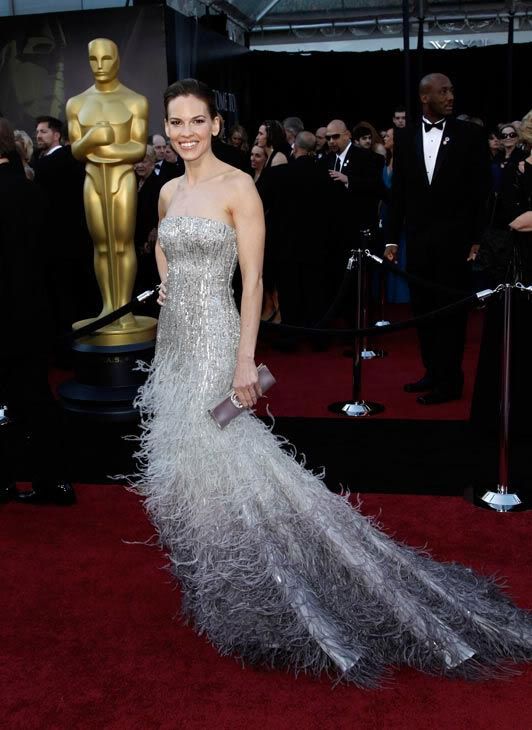 Helen Mirren is always ab fab darling! You really can't see she's 65 years old. Especially not in this gunmetal Vivienne Westwood creation. We love that she's taken a chance and gone with a designer you see very rarely at the Oscars. All hail the Queen.
From one Oscar winner to another, Halle Berry is stunning in this sparkly tuille fest by Marchesa. She just commands your attention. Although I found her a bit too much during the In Memorium segment talking about Lena Horne.
Hailee Steinfeld from the western True Grit, also wore a sparkly Marchesa dress. It is cute, age appropriate and we are loving the diamond headband.
From sparkles to silver. You'd think a silvery dress like this could never become dull. Well, that is until you put it on Gwenny Paltrow. Of course, it is a Calvin Klein creation, so chances are it would have been dull anyway. Still we blame Mrs. Coldplay's poor posture and generally dull persona. It's not working for us.
One boring dress rarely comes alone. Florence Welch wore this curtain of a creation by Valentino Couture.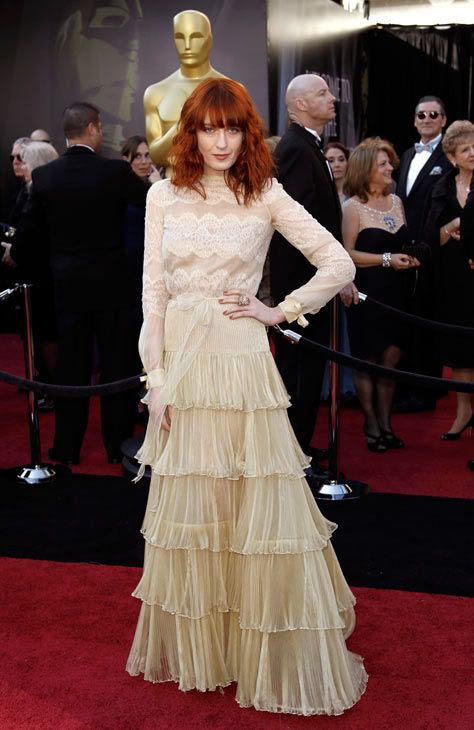 Cheryl Hines, well I am not sure who she is, but she needs to strap in her boobs. Other than that, this unknown creation isn't half bad. Lay off the plastic surgery though.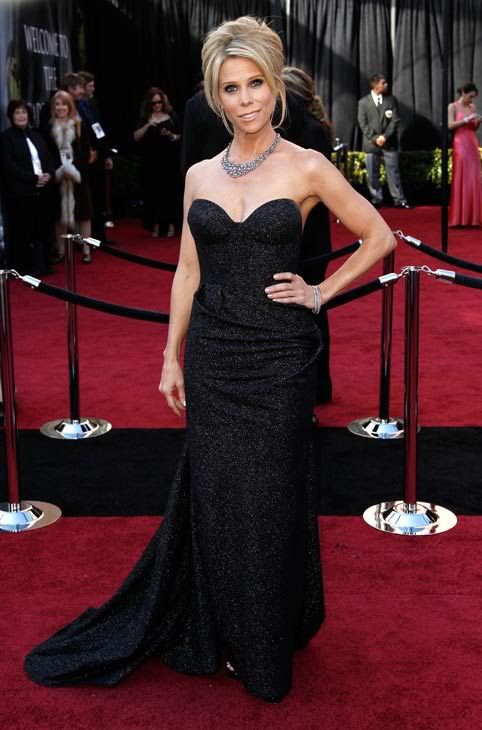 Cate Blanchett is usually very beautiful. It just happens that she decided on this hideous Givenchy Haute Couture dress.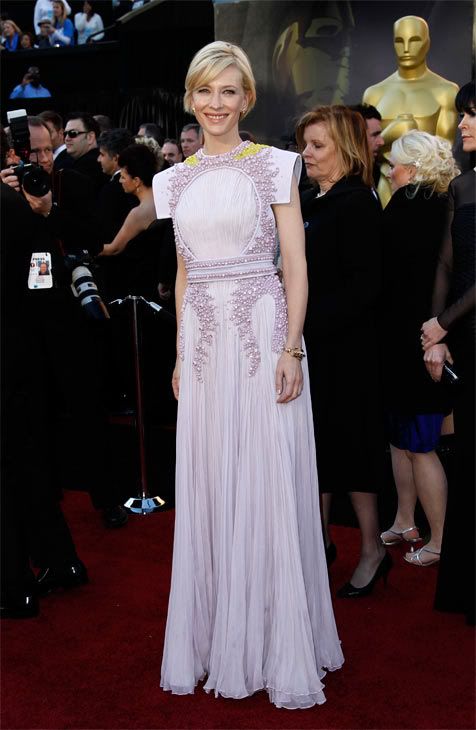 As if this wasn't enough, let's see the back.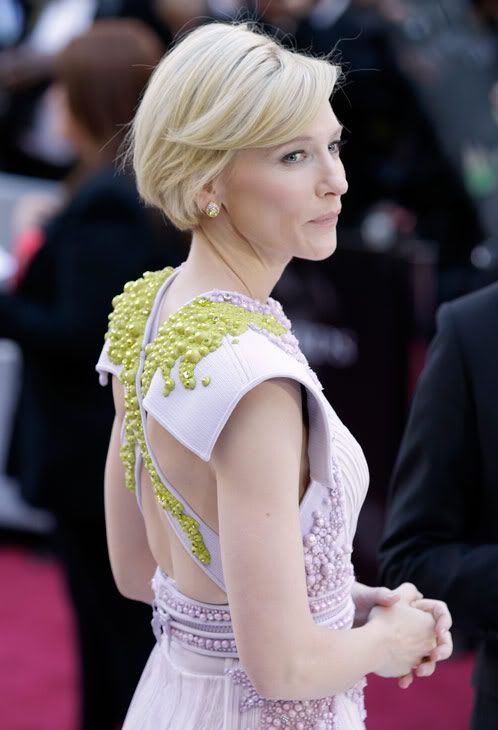 Moving right along to another favourite of mine, Amy Adams who wore this spectacular sparkly blue L'wren Scott creation and Cartier jewels.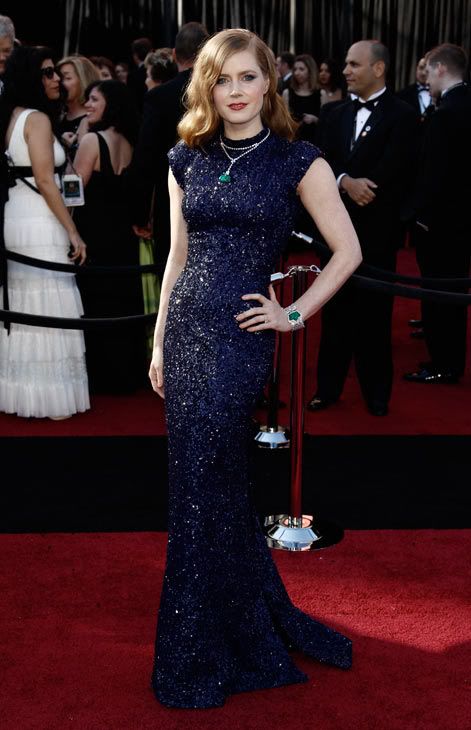 Now, I know. We really shouldn't have included her. Yet it seems only fair as she performed the song during the In Memorium segment. Celine Dingdong wore this Armani Privé dress. We don't like her one bit, and while the dress isn't too bad, we can't help but focus on Celine in the dress. The freakish face, combined with the poor fabric choice. This is not a match made in heaven, but it is better than when she arrived in a backwards tuxedo.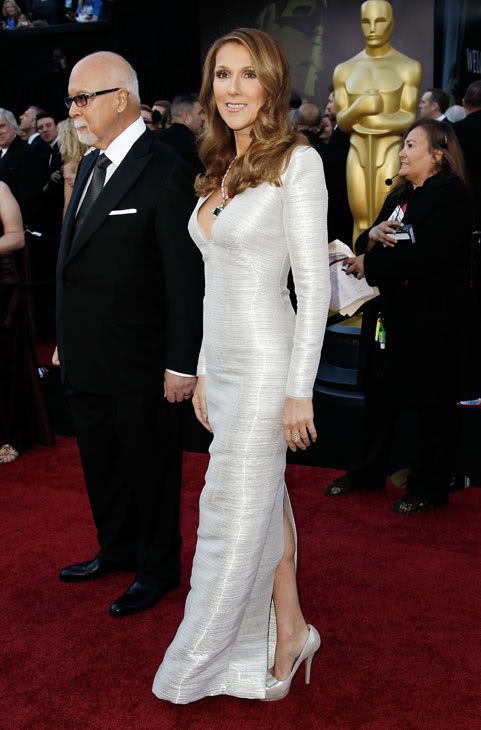 Finally, the last dress is the Annette Bening dress. The one I really couldn't wrap my head around. A dress by Naeem Khan (remember, Marky Marks poor mans Molly Sims wore a dress by the same designer) that looks like something out of the movie Tron Legacy
Join us again next year for another Oscar: Red Carpet.