Hot off the Copenhagen Fashion Week, they were airing some fashion documentaries on TV to celebrate. There was Victor & Rolf - Because we're worth it, Chanel and The Jean Paul Gaultier documentaries. Last year they also aired one of Marc Jacobs, but that was not in the line-up. I guess they too, found Marc Jacobs to be a cunt not worth spending an hour with.
I had already watched the Victor & Rolf documentary last year, but this year I caught Chanel and Jean Paul Gaultier. Especially the latter made quite an impression as Jean Paul Gaultier is just about the nicest person in fashion. Unlike many other fashion houses, they create everything in the Jean Paul Gaultier building in Paris. Everything from buttons to special kinds of crocheting. It's very impressive. The documentary comes at time when I received a postcard from
a very dear reader of mine
.
The photo above is from the same photoshoot but the postcard MJ sendt me showed the Jean Paul Gaultier in full. Receiving that postcard inspired me to share some of the looks that Jean Paul Gaultier created for Kylie Minogue. Some of these were created for his couture runway shows but then altered for Kylie.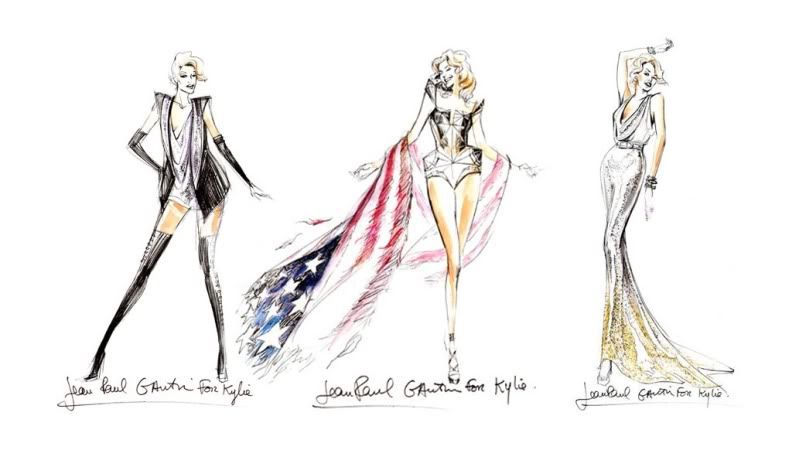 These Jean Paul Gaultier fall 2009 designs were used for Kylie's first ever Northern American tour in 2009 and the entire outfits ended up looking like this.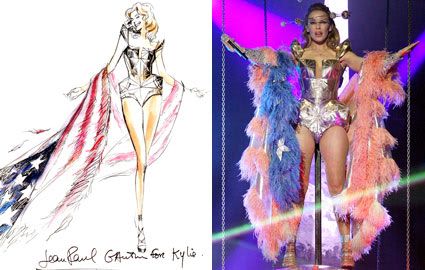 I love how this silver leather patchwork bodysuit plays with the shape of the body, and was paired up with the crystal constallation headdress by Stephen Jones and pink feather coat with the American Flag. The Shoes are Giuseppe Zanotti.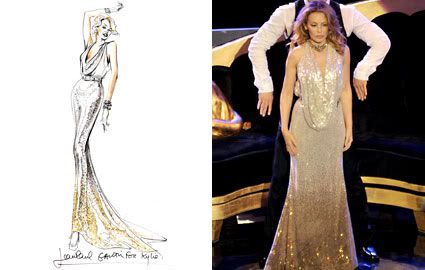 This gold sequin and beaded gown weighs 6 kilos and could not originally hand on a hanger. It was also dubbed the Marilyn Monroe dress.
Kylie wore this sequin mini dress and leather vest with sequin trim. The boots are the Christian Louboutin Supra Fifre thigh high boots.
This is a body suit version of the original Jean Paul Gaultier dress trimmed with feathers and paired with a Stephen Jones headdress and thigh high Christian Louboutin boots.
A year earlier Kylie had also used Jean Paul Gaultier to design her wardrobe for her X2008 Tour.
The opening dress was this purple and gold number combined with long gold gloves. During the tour it was switched with a black version of the same dress along with a more sleek hairstyle.
A Japanese kimono look with the nude tattoo stocking tights was made for the show. It was paired with a monster of a blonde wig and the most insane and gorgeous shoes.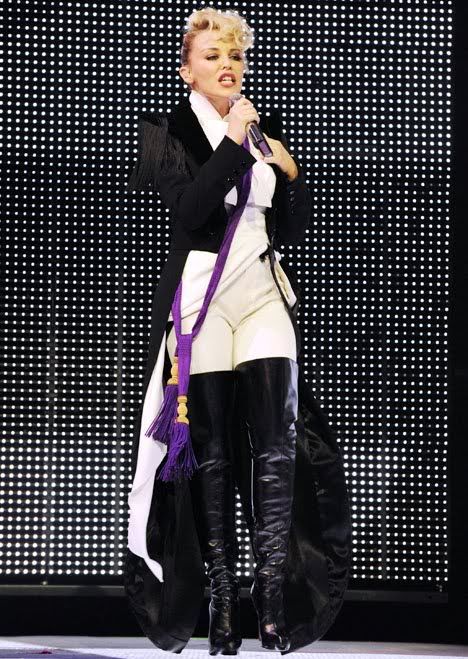 This was another amazing outfit and possibly one of my all time favourites that Jean Paul Gaultier has created for Kylie.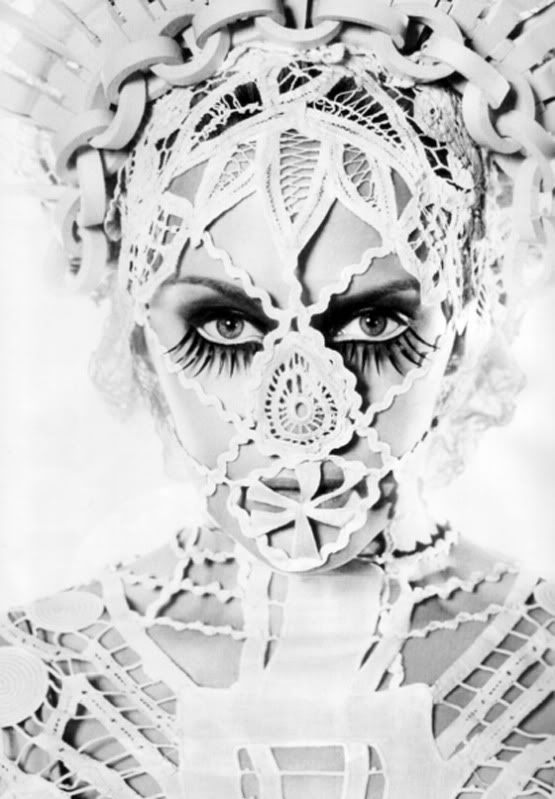 This
cut out pattern look
was used on the projection video for a segment during the Kylie tour and is amazing handwork. Unfortunately I haven't been able to find full figure photo.
Last but not least Jean Paul Gaultier supplied this gorgeous gown for the cover of Kylie's most recent album Aphrodite.
Obviously Jean Paul Gaultier has created more looks for Kylie than these, and their friendship and collaboration goes back as far as to 1991 when he created the costumes for her Let's Get To It tour.
The Gaultier exhibition
Jean Paul Gaultier From Sidewalk To Catwalk
is currently in Montreal but will travel internationally over the next couple of years. It's not to be missed.
We here at 'Petras Palace love Jean Paul Gaultier
He's not all about cone bras and sailor stripes, although of course sailor stripes are his trademark.